Coventry Sterile Sampling Swabs
Request a Sample
Your Sample Request
Coventry Sterile Sampling Swabs
*=required field
Coventry Sterile Sampling Swabs
Coventry™ Sterile Sampling Swabs have been engineered to efficiently collect biological fluids for elution and analysis especially nasopharyngeal and oropharyngeal sampling.
Sampling Swabs are ETO sterilized -- free from human DNA, enzymes that degrade DNA and RNA, and polymerase chain reaction inhibitors.
Swab heads are available with either flocked or foam material. Brush-like flocked microfiber swabs are more comfortable, soft, and absorbent with high surface area for rapid capillary absorption of fluid specimens.
Coventry Sterile Sampling Swabs provide more consistent and repeatable sample collection to drastically reduce resampling.
Factory Certificates available:
FDA Registered
ISO13485:2016 since 2018 (TÜV Rheinland)
EC Certificate Dir 93/42/EEC Annex V
Made for COVENTRY™ by Miraclean

FAQ's
What is a sterile swab?
Sterile swabs are free from bacteria or other living microorganisms. Common methods for sterilization include autoclaves, ETO (ethylene oxide gas), and Gamma irradiation. Sterile swabs are generally used for biological sample collection to avoid sample contamination, and for medical use to avoid infection.
Articles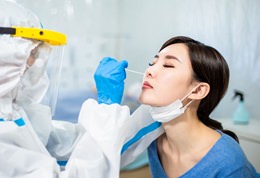 Essential Guide to Sterile Sampling Swabs
Chemtronics offers a line of Coventry Sterile Sampling Swabs that are FDA approved and manufactured and sterilized to the highest standard. The following is a guide that provides an overview of sampling used for COVID-19, flu and other similar testing.
Read This Post