4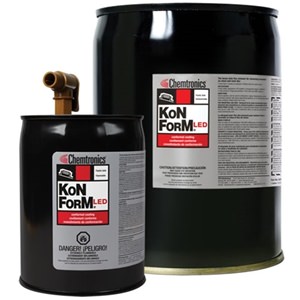 Request a Sample
Your Sample Request
Konform® LED Silicone Conformal Coating
*=required field
Konform® LED Silicone Conformal Coating
Konform® LED is a silicone conformal coating designed for light emitting diode (LED) applications, where a completely transparent coating is required to provide a tough, protective coating. Ideal for LED lights, displays and controls, especially when used in outdoor or other extreme environments. Konform® LED provides maximum flexibility for extreme temperatures on the flex and rigid circuitry found in LED displays. Cured coatings are hydrolytically stable and retain their physical electrical properties after high temperature and humidity exposure.
Features & Benefits
Engineered for applications where flexibility and high temperature resistance are required
Passed the 1000-hr burn-in testing protocol by Cree Labs with MX- or XP-series lamps per CLD-AP63 Rev 5C, 2016
Compliant to IPC-CC-830A and UL 94 V-0
Silicone coating transparent to visible wavelengths, will not block or change light intensity or wavelength
Extends component life by protecting against adverse environments
Good insulation properties help with circuit insulation characteristics, excellent flexibility minimizes thermal stress
Resists moisture, salt, fungus, corrosive vapors, and severe environments
Engineered to withstand heat generated by PCB as well as climatic temperature extremes
Compliant with RoHS
Applications
LED Displays and controls
Data Communications
Instrumentation
Automotive Manufacturing
Marine Manufacturing
Process Control
Order from an authorized distributor
FAQ's
How do I figure out the shelf life of a product?
The shelf life of a product can be found on either the technical data sheet (TDS), available on the product page, or by looking on the certificate on conformance (COC). The COC can be downloaded by going to https://www.chemtronics.com/coc. Once you have the shelf life, you will need to add it to the manufacture date for a use-by date. The manufacture date can be identified by the batch number. The batch code used on most of our products are manufacture dates in the Julian Date format. The format is YYDDD, where YY = year, DDD = day. For example, 19200 translates to the 200th day of 2019, or July 19, 2019. This webpage explains and provides charts to help interpret our batch numbers: https://www.chemtronics.com/batch-codes.
Articles
The Ultimate Guide to Conformal Coating
Historically, the only circuit boards going through a conformal coating process were for mission-critical applications, like aerospace. The trend toward greater and greater electronic miniaturization and wearable electronics (PCB + electricity + sweat = problems) has led to a higher demand for the p...
Read This Post
How To Evaluate The Best Silicone Conformal Coating
2018 was a rough year for PCB assemblers who use silicone conformal coating. Many EMS buyers of silicone conformal coating have experienced shortages, with lead times going from days to weeks, then even to months. All the while, prices have started to skyrocket. Many engineers specify legacy sili...
Read This Post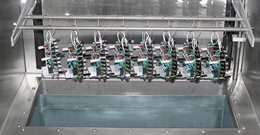 8 Essential Tips for Conformal Coating Dip Application
For those of you considering dip application in your conformal coating process, the following are general guidelines to bear in mind when exploring this application method. There are a number of variations of dip coating of PCBs. The most basic is the manual, by hand method. The...
Read This Post
You did not finish submitting your information to request a sample