Chemtronics Webinar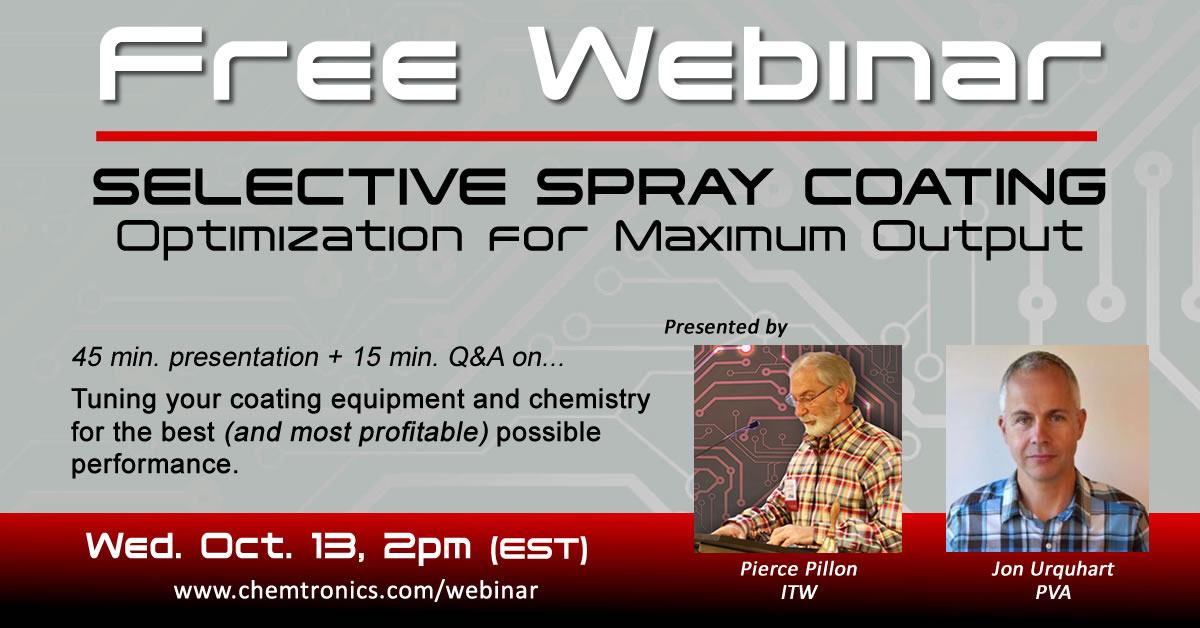 ---
Selective Spray Conformal Coating Optimization for Maximum Output
Overview of PCBA conformal coating application with selective spray systems and tips for optimizing equipment settings and chemistry selection for the best (and most profitable) possible performance. Presented by industry experts Pierce Pillon, Senior Field Engineer of Techspray, and Jon Urquhart, Director of Global Applications Engineering for PVA.
In 45 minutes, we will be covering:
Equipment settings for highest quality cleaning results in the shortest amount of time
Importance of chemistry selection and optimizing to your flux and batch equipment
Tips and tricks to get the most out of your cleaning process
Register to reserve your spot on this informative and important subject. 45 minute presentation followed by 15 minute Q&A.
---
Speakers:

Pierce Pillon
Senior Field Engineer @ITW Contamination Control - Electronics

Previously the Lab Manager and lead formulations chemist, Pierce is currently the Senior Field Applications Engineer at ITW Contamination Control - Electronics, a world-wide manufacturer of chemical products for the electronics industry, featuring brands like Chemtronics and Techspray. After serving in the military for eight years, he completed his education in 1982, graduating from Lamar University. Working in the petroleum industry for 20 years as a senior project chemist, he was employed by Getty Oil Co., Texaco, and Chevron. He led projects around the world specializing in treating systems for the natural gas & liquids plants. Pierce is active in SMTA and IPC. He is a past Director, VP, and President of the Southern Aerosol Technical Association (SATA).

Jon Urquhart
Director - Global Applications Engineering @PVA

Jon Urquhart has been PVA's senior application engineer since 1993 and specializes in the processing of fluid materials in a production environment, often collaborating with material manufacturers and end users alike to optimize their process and recommend efficient automated equipment and application solutions. Jon currently holds numerous patents for spray valve designs and coating machine configurations and is a renowned expert in the selective application of conformal coating materials with over 25 years of applicable experience.