Chemask HV - High Viscosity Peelable Solder Mask
4
Request a Sample
Your Sample Request
Chemask HV - High Viscosity Peelable Solder Mask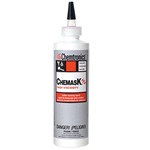 *=required field
TDS
MSDS (ANSI)
SDS (GHS)
Chemask HV - High Viscosity Peelable Solder Mask
Chemask® HV Solder Masking Agent is a temporary, high viscosity, fast curing, peelable solder masking agent. It is a high-temperature resistant compound that protects component-free areas during wave soldering. Chemask® HV can be introduced to the wave solder preheat within 4 minutes without adverse effects. Chemask® HV may be used to protect pins, posts, contacts and edge connections during conformal coating processes.
Features & Benefits
Usable within five minutes of application with preheat cycle
More controlled application
Thicker coating does not seep through thru-holes
Latex material is compatible with flux systems and stable with cleaning solvents
Applications
Increase manufacturing speed with preheat cure cycle
Ideal for all thru-hole manufacturing applications
Use as a protective mask during conformal coating process for: switches, pins, posts, contact and edge connections
TDS
MSDS
(ANSI)
SDS (GHS)
Categories
| | |
| --- | --- |
| Specifications | MIL-STD-2000A, PARA.5.3.18 |
| Shelf Life | 2 yrs. |
| Shipping Name | Coating Compound Not Regulated |
Order from an authorized distributor
FAQ's
How do I figure out the shelf life of a product?
The shelf life of a product can be found on either the technical data sheet (TDS), available on the product page, or by looking on the certificate on conformance (COC). The COC can be downloaded by going to https://www.chemtronics.com/coc. Once you have the shelf life, you will need to add it to the manufacture date for a use-by date. The manufacture date can be identified by the batch number. The batch code used on most of our products are manufacture dates in the Julian Date format. The format is YYDDD, where YY = year, DDD = day. For example, 19200 translates to the 200th day of 2019, or July 19, 2019. This webpage explains and provides charts to help interpret our batch numbers: https://www.chemtronics.com/batch-codes.
How do I avoid peelable solder mask from breaking off and leaving residue behind?
The follow are factor to consider when trying to avoid breakage: 1) Curing – Partially cured mask will have more of a tendency to break or leave residue. 2) Temperature and duration in extreme heat – Mask is designed for wave soldering, which is about a second of exposure to molten solder temperatures (generally 550°-650°F). If the mask is sent through a reflow oven the duration is much longer, which can lead to more mask brittleness. If the mask is exposed to high-temperature solder (e.g. silver), it can also lead to more brittleness. 3) Application method – When hand applying, we recommend holding the bottle at about a 60° angle, rather than upright at 90°. That tends to apply the material as a thick blanket over the areas to be masked. When the bottle is held at 90°, the mask is generally applied thinner, and is forced through holes and around components. Those thin areas are more likely to become brittle and stay behind, and mask pushed into holes and around components is harder to remove, so more likely to break.
Articles
Ultimate Guide to Temporary Solder Mask
What is Temporary Solder Mask Temporary solder mask (also called "spot mask") is used every day in the assembly of electronic circuit boards. Solder mask is engineered to protect thru-holes or "vias" in wave soldering. It has to withstand extreme soldering temperatures and...
Read This Post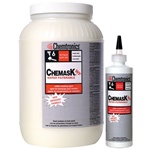 Chemask WF – Water Filterable Solder Mask
The low foaming, water filterable temporary solder masking agent