Coventry Pillow-Tip Swabs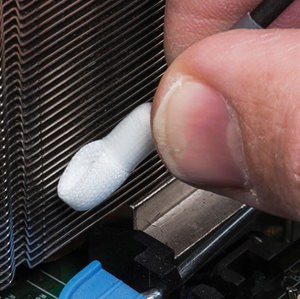 Coventry Pillow-Tip Swabs
Pillow-tip™ swabs offer cotton bud characteristics without the fibers, lint and contamination of cotton. Glass filled nylon handles are rigid like wooden handles but are cleanroom grade. Aqua-Prime™ process available on all wrapped polyester swabs.
Pillow-tip™ swabs consist of polyester knit fabric which is held in place using a shrink tube. These swabs are low in nonvolatile residue, ionic and particulate contamination, while providing exceptional strength and solvent resistance.
CLICK HERE FOR SWAB SELECTION GUIDE
Features & Benefits
Engineered for high solvent retention with the cleanliness of ISO Class 4 processed polyester
Seamless design is lint free
High-strength, adhesive-free swab, durable head construction
Excellent solvent compatibility
Available Aqua-Prime™ processed
Applications
Clean High End Disk Drive Components
Clean Surfaces for the Aerospace Industry
Micro Mechanical Cleaning
Validate cleanliness of Manufacturing Surfaces for the Pharmaceutical and
Biotechnical Industry
FAQ's
What is the best swab to use for high temperature applications, like cleaning out a hot mold?
The head of a foam swab with degrade, tackify and breakdown around 275°F. The polypropylene handle will melt around 320°F. A better option to resist the degrading effect of the high temperatures is a polyester swab head on a nylon handle such as 51353, 51121 or 52121. 52121 would probably be the best, because it's 6 inches long which keeps more safe distance between the hot mold and the user. It should be able to handle temperatures approaching 500°F.
Articles