Chemask LF - Lead-Free Solder Mask
13
Request a Sample
Your Sample Request
Chemask LF - Lead-Free Solder Mask
*=required field
Chemask LF - Lead-Free Solder Mask
High temperature, peelable temporary mask ideal for lead-free applications
Chemask® Lead-Free Solder Masking Agent is a temporary, fast curing, peelable solder masking agent formulated for use in high-temperature lead-free applications. It is a temperature resistant coating that protects component-free areas of the PCB during wave soldering. Chemask® Lead-Free can be introduced into the preheat oven within 4 minutes of application without adverse effects. Use to protect pins, posts, contacts and edge connections during conformal coating processes.
Features & Benefits
Formulated for use with lead-free applications
Can also be used with Tin/Lead solders
Usable within five minutes of application with preheat cycles
Provides short-term high temperature protection up to 550ºF (288ºC)
RoHS compliant
Applications
Ideal for protecting contacts during lead-free soldering
| | |
| --- | --- |
| Specifications | MIL-STD-2000A, PARA.5.3.18 |
| Shelf Life | 2 yrs |
| Shipping Name | Coating Compound Not Regulated |
Order from an authorized distributor
FAQ's
Articles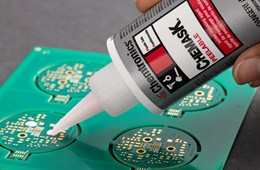 Ultimate Guide to Temporary Solder Mask
Temporary solder mask (also called "spot mask") is used every day in the assembly of electronic circuit boards. Solder mask is engineered to protect thru-holes or "vias" in wave soldering. It has to withstand extreme soldering temperatures and still be removed easily and efficiently at the end of th...
Read This Post