Request a Sample
Your Sample Request
Static Free Plast-N-Glas
*=required field
TDS
MSDS (ANSI)
SDS (GHS)
Static Free Plast-N-Glas
Static Free™ Plast-N-Glas® effectively cleans, polishes and eliminates static charges. A single application dissipates electrostatic buildup while also removing dirt, grease, ink, fingerprints and nicotine stains. Static Free™ Plast-N-Glas® will not streak, smear, scratch, or abrade. Leaves surfaces thoroughly clean for improved optical clarity and distortion-free reading.
Features & Benefits
Controls static, cleans and polishes in one application
Effectively removes handling oils, finger soils and nicotine stains
Prevents attraction of dust and dirt
Compatible with plastics, glass and stainless steel
Foaming spray won't run or drip; ideal for optical surfaces
Not for use on anti-glare coating or mesh screens
Applications
Cleaning computer monitors and housings
Removing handling soils from precision glassware
Maintaining cleanliness of observation windows on production equipment
TDS
MSDS
(ANSI)
SDS (GHS)
Categories
| | |
| --- | --- |
| Shelf Life | 5 yrs. unopened and 2 yrs. opened |
| Shipping Name | Consumer Commodity ORM-D |
Articles
ESD Safe Swabs Prevent Shocking PCB Failures
Swabs are useful precision tools for technicians and operators to perform delicate and meticulous tasks like precision cleaning, repair, and assembly. The types of swabs can range from low-cost cotton buds on a wooden stick to highly engineered cleanroom woven material with a specialized head shape....
Read This Post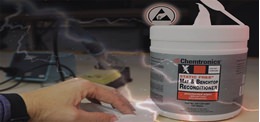 Try Our New Static Free Mat & Benchtop Reconditioner Wipes
Cleans and Rejuvenates ESD-Safe Surfaces Chemtronics Static Free™ products are engineered to protect electronic equipment and workspaces from static buildup while cleaning and reconditioning. These products provide everything required for a comprehensive surface treatment program as recomm...
Read This Post
Order from an Authorized Distributor