2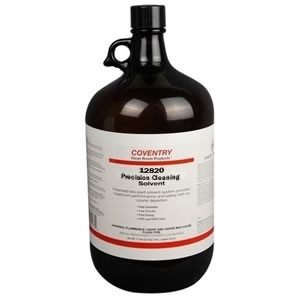 Request a Sample
Your Sample Request
Coventry 12820 Precision Cleaning Solvent
*=required field
Coventry 12820 Precision Cleaning Solvent
Solvent for critical cleaning applications, oxygen systems cleaning and validation testing
Coventry 12820 Solvent is a proprietary azeotropic blend designed specifically for effective cleaning and validation of NASA Propulsion Oxygen Systems Hardware. This unique formulation is non-combustible and exhibits good material compatibility, oxygen system compatibility and high cleaning effectiveness. Coventry 12820 is an ideal AK-225 replacement in systems where high cleaning efficiency and high non-volatile residue removal are required.
Features & Benefits
Cleaning solvent for critical cleaning applications
Meets SAE ARP1176
Evaluated and tested in NASA/TP-2015-218207
Non combustible
No Ozone Depleting Chemicals, low Global Warming Potential
Azeotropic composition provides excellent composition stability
Designed for use in oxygen system cleaning
Removes particulates and debris
Removes fluorocarbon greases and oils used to lubricate fittings
Low Toxicity
Fast Drying
Very Low Non-Volatile Residue
Maximum Performance and Safety
Specifications

NASA/TP-2015-218207

SAE ARP1176
Order from an authorized distributor
FAQ's
How do I figure out the shelf life of a product?
The shelf life of a product can be found on either the technical data sheet (TDS), available on the product page, or by looking on the certificate on conformance (COC). The COC can be downloaded by going to https://www.chemtronics.com/coc. Once you have the shelf life, you will need to add it to the manufacture date for a use-by date. The manufacture date can be identified by the batch number. The batch code used on most of our products are manufacture dates in the Julian Date format. The format is YYDDD, where YY = year, DDD = day. For example, 19200 translates to the 200th day of 2019, or July 19, 2019. This webpage explains and provides charts to help interpret our batch numbers: https://www.chemtronics.com/batch-codes.
Articles
Essential Guide to Medical Electronic Device Design
One of the most common mistakes is not considering the relevant regulations early in the medical electronic device design process, leading to expensive modifications or even the complete redesign of the device. Therefore, it is important to know the regulations and best practices before starting a n...
Read This Post