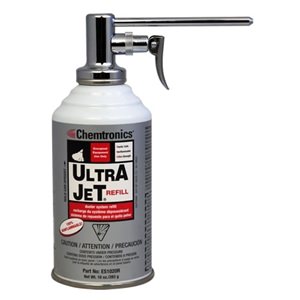 Ultrajet® Duster System
Ultrajet® Duster System is a high pressure duster that cleans electronics without scratching delicate surfaces. This duster/cleaner is nonflammable, residue-free and won't scratch delicate surfaces.
Features & Benefits
Reusable system of chrome trigger and refill can, saves you money
Conductive trigger valve prevents static build-up
Nonflammable
Zero VOC
Filtered to 0.2 microns
Leaves no residue
100% ultra-pure HFC-134a
Safe on plastics
Applications
Economical, uses ES1020R refill cans
Cleaning inside electrical cabinets
Shelf Life
10 yrs.
Shipping Name
Consumer Commodity ORM-D
NSN

ES1020R - 6850-01-434-1191

ES1020K - 6850-01-381-2675
FAQ's
Articles How do I properly dispose of an aerosol can after it is empty?
It may be different state-by-state, so contact your state environmental agency for regional specific regulations. For a general guideline, here is the process according to EPA hazardous waste regulations 40CFR. The can has to be brought to or approach atmospheric pressure to render the can empty. Pu...
Read This Post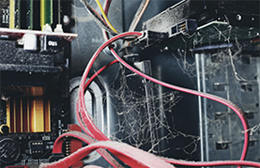 Ultimate Guide to "Canned Air" / Aerosol Dusters
Aerosol Duster, which is commonly referred to as "canned air", "compressed air", and "dusting gas", is used knock dust and dirt loose with a pressurized blast. On a production line, it's not unusual to see compressed air lines dropped for this purpose. Whi...
Read This Post