Coventry Poly Double-Onyx ESD Wipes
7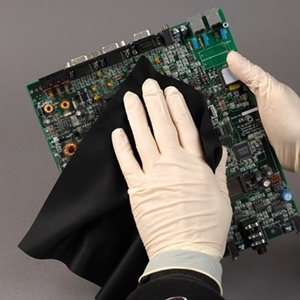 Request a Sample
Your Sample Request
Coventry Poly Double-Onyx ESD Wipes
*=required field
Coventry Poly Double-Onyx ESD Wipes
ESD safe, black polyester monofilament wipe
Poly Double-Onyx™ ESD Wipes are made from 2nd generation black no-run monofilament polyester knit, providing excellent strength, absorbency and chemical compatibility. These wipers are perfect for general cleanroom and equipment maintenance, or any critical applications where lint is not tolerated. The black color makes them uniquely valuable as inspection wipes for light colored soils and dust. The conductive carbon filaments are knitted into both sides of the wipes and twice as densely packed as other ESD wipes, for maximum continuity to ground in the 107-109 range.
Whitepaper: Learn more about the benefits of using black clean room inspection wipes
Features & Benefits
Class 100 – 1000 (ISO 5-6) black, laser-sealed edge polyester wipe
Static dissipative within 107-109 range for S20.20 compliance
Conductive material is double-sided and double-density for maximum continuity to ground
High durability for cleaning rough, abrasive, or irregular surfaces
Monofilament "no-run" construction does not release loose fibers
Excellent solvent and acid resistance
Low ionic, nonvolatile residue and particle contamination
Good absorbency
Applications
Semiconductor Wafer Fabs
Aerospace Production Areas
Disk Drives Production Areas
Pharmaceutical / Biotechnical Production Areas
General Clean room Cleaning
Dust and Make-up Detection / Inspection
Clean static sensitive surfaces
| | |
| --- | --- |
| Shelf Life | 2 Yrs |
| Shipping Name | Wipes |
Order from an authorized distributor
FAQ's
What type of wipe is best for cleanrooms?
Cleanroom wipes used for critical applications are almost always knitted synthetic fibers. Knitted polyester fabric, like used for Coventry Poly-Wipes (part #6209), is the most popular wipe material for cleanrooms. Knitted polyester is made clean, contaminants can easily be removed from knitted polyester in a cleanroom laundry, and polyester is relatively inexpensive. Non-woven wipes do not offer the advantage of ease in cleaning as their composition causes them to disintegrate in a cleanroom washing machine or cleanroom drier.
Articles