CircuitWorks Thermal Paste
8
Request a Sample
Your Sample Request
CircuitWorks Thermal Paste
*=required field
CircuitWorks Thermal Paste
Thermal compound for heat transfer away from electronics and electrical components
CircuitWorks® Thermal Paste facilitates heat transfer away from electrical/electronic components. This heavy consistency material is thickened with a heat conductive filler to maintain a positive heat sink seal in electrical/electronic equipment.
Heat Sink Grease (CT40-5)
Silicone-base
Thermally stable from -40°F(-40°C) to 392°F (200°C)
Meets MIL-DTL-47113D Type I
Silicone Free Thermal Paste (CW7270)
Silicone free compound avoids silicone migration
Thermally stable from

-99.4°F(-73°C) to 392°F (200°C).

Exceeds MIL-C-47113 for thermal conductivity
Boron Nitride Thermal Paste (CW7250, CW7250KG)
Provides maximum thermal conductivity with superior dielectric properties
Silicone free compound will not harden or dry out
Thermally stable from -99ºF (-73ºC) to 392ºF (200ºC)
Exceeds MIL-C-47113 for Thermal Conductivity
---
Features & Benefits
Facilitates heat transfer between circuit components and heat sinks
Excellent thermal and dielectric properties
Will not dry out, harden, or melt
Noncorrosive and nonflammable
Specifications

MIL-DTL-47113D

ANSI/IPC J STD-001, IPC-7711
Shelf Life5 yrs.Shipping NameAdhesives N.O.I
Order from an authorized distributor
FAQ's
Articles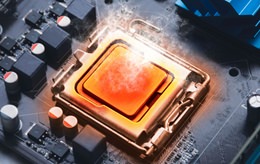 Repairing & Avoiding Electronic Faults with Thermal Paste
Thermal grease, also known as thermal paste or thermal compound, is a substance used to improve the thermal conductivity between two surfaces, typically between a microprocessor and a heat sink. The purpose of thermal grease is to fill in the microscopic gaps and imperfections on the surface of the ...
Read This Post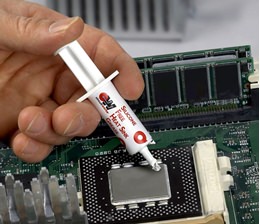 Circuit-Works Thermal Paste User's Guide
Thermal paste is called a lot of names, including thermal compound, heat sink compound, and thermal grease. Its job is to fill the gap between a heat generating device, most commonly a CPU, and the thermal transfer device, or mechanical heat sink. Why is thermal paste needed? CPU's run very hot, and...
Read This Post
Ultimate Guide to Benchtop PCB Rework & Repair
The reality is that no soldering operation produces perfect assemblies every time. Even the highest quality components fail from time-to-time. That's why understanding the best rework and repair methods and materials is so important for those who manufacture, maintain, or repair printed circuit boar...
Read This Post