Coventry ESD Static Control Swabs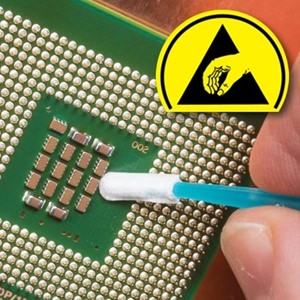 Request a Sample
Your Sample Request
Coventry ESD Static Control Swabs
*=required field
Coventry ESD Static Control Swabs
Engineered to eliminate damage from static electricity. The handles of these swabs will dissipate 99% of a 5,000 volt (5 KV) charge in less than 2.0 seconds. The static dissipative plastic alloy used to make the handles is inherently static dissipative. It contains no additives, coatings or surfactants so it functions at any level of humidity and it is very resistant to solvents — even acetone. Choose between our Class 10 (ISO Class 4) laundered polyester or 100 pore-per-inch ultraclean polyurethane foam.
CLICK HERE FOR SWAB SELECTION GUIDE
Features & Benefits
Excellent solvent resistance
Surface resistivity of 1010 ohms/sq.
Low ionic, nonvolatile resid ue, and particulate contamination
No humidity dependency
No Amines, no silicones, no static dissipative coatings
No Tribo-charge generated
Handles will dissipate 99% of (5 kV) charge in 0.5 seconds
Applications
Use in any static sensitive application
FAQ's
What are the different types of cleanroom swabs?
Cleanroom swabs are essential tools used in controlled environments, such as cleanrooms, where maintaining high levels of cleanliness and avoiding contamination is crucial. Different types of cleanroom swabs are designed to meet specific requirements and are made from various materials to suit different applications. Some common types of cleanroom swabs include:
Foam Swabs: Foam swabs are made from polyurethane foam, which has excellent solvent compatibility and high absorbency. These swabs are ideal for cleaning delicate surfaces, applying solvents, and removing excess residues. Foam swabs come in different sizes and shapes to address various cleaning needs.
Polyester Swabs: Polyester swabs are constructed from a synthetic material that has low particle generation and good chemical resistance. These swabs are often used in precision cleaning applications, particularly in sensitive electronic components and hard-to-reach areas.
Microfiber Swabs: Microfiber swabs are designed to trap and remove microscopic particles effectively. They are often used in cleaning sensitive optical surfaces, camera lenses, and other high-precision equipment.
Cotton Swabs: Cotton swabs, also known as cotton-tipped swabs, have a cotton tip attached to a plastic or wooden handle. They are commonly used in less critical cleanroom environments for general cleaning and application of solutions.
ESD-Safe Swabs: Electrostatic discharge (ESD)-safe swabs are designed to prevent damage to sensitive electronic components that could be harmed by static electricity. These swabs are usually constructed with conductive materials that dissipate static charges.
It's important to select the right type of cleanroom swab based on the specific needs of the cleanroom environment and the surfaces or equipment being cleaned. Each type of swab has unique characteristics that make it suitable for different applications, so proper selection is essential to ensure effective cleaning and avoid any risk of contamination.
What are the uses of cleanroom swabs?
Cleanroom swabs are essential tools used in various industries, especially in environments that require strict contamination control, such as cleanrooms and sensitive manufacturing processes. These swabs are designed to effectively clean and remove particles, residues, and contaminants without leaving any trace of lint or other foreign matter. Some common uses of cleanroom swabs include:
Electronics Manufacturing: Cleanroom swabs are extensively used in the electronics industry for cleaning delicate electronic components, printed circuit boards (PCBs), and other sensitive equipment during assembly, testing, and maintenance processes.
Pharmaceutical and Biotechnology: In pharmaceutical and biotech cleanrooms, swabs are used to sample surfaces and equipment to ensure proper hygiene and prevent cross-contamination.
Aerospace and Defense: Cleanroom swabs are employed in aerospace and defense applications for cleaning critical components, optics, and precision instruments to maintain performance and reliability.
Medical Device Manufacturing: During the manufacturing of medical devices and equipment, cleanroom swabs are utilized to ensure proper cleanliness and quality of the products.
Optics and Photonics: In the optics and photonics industry, where precision is crucial, cleanroom swabs are used to clean lenses, mirrors, and other optical components without scratching or damaging them.
Semiconductor Industry: Cleanroom swabs are widely used in the semiconductor manufacturing process to clean and maintain the purity of wafers, chambers, and other semiconductor equipment.
Automotive Manufacturing: In automotive manufacturing facilities, cleanroom swabs are used for cleaning sensitive electronic components, sensors, and precision parts.
Food and Beverage Production: In the food and beverage industry, cleanroom swabs are used to monitor and maintain cleanliness in processing equipment and packaging areas.
Printers and Print Head Maintenance: Cleanroom swabs are employed to clean print heads and other critical components in printers, ensuring consistent print quality.
Laboratories: In research and analytical laboratories, cleanroom swabs are used for sampling, cleaning, and handling sensitive instruments and equipment.
It's important to note that different cleanroom swabs are designed for specific applications and requirements, such as solvent compatibility, particle generation, and overall cleanliness. When selecting cleanroom swabs, it is crucial to consider the specific needs of the application and ensure that the swabs meet the required standards and specifications for cleanliness and performance.
Are swabs available for cleaning static sensitive electronics?
Yes, Chemtronics offers a full line of ESD swabs. They include foam, knit polyester, or knit microfiber heads with static dissipative handles. The proprietary handle material has surface resistivity of 1.0 x 10_10 ohms/sq, and will dissipate 99% of (5 kV) charge in 0.5 seconds. This avoids static generation, and can dissipate a charge when the user is grounded.
Articles