Coventry Multi-Phase Carrier Solvent
3
Request a Sample
Your Sample Request
Coventry Multi-Phase Carrier Solvent
*=required field
Coventry Multi-Phase Carrier Solvent
Non ozone depleting carrier solvent and swelling agent
Coventry™ 12809 Multi-Phase Carrier Solvent is a saturated mixture of n-octane and perfluorocarbon (PFC). The n-octane provides solvency while the PFC provides an inert perfluorocarbon vapor blanket above the liquid mixture. These vapors act to impede the flammability of the n-octane. As the perfluorocarbon evaporates during use, the supplemental PFC moves into the saturated solution. Although 12809 shows no closed cup flash point up to its boiling point, the primary component, n-octane is flammable. Therefore, Coventry™ 12809 should be handled and shipped as a flammable solvent.
Coventry™ 12809 is used to replace CFCs, HCFCs, and flammable solvents as a carrier solvent for lubricants and coatings. It is especially effective as a silicone solvent and as a swelling agent for silicone fabricated parts.
High solubility of silicone and other lubricants
No ozone depleting chemicals
Low toxicity
Fast drying
Very low non-volatile residue
Maximum performance and safety
Order from an authorized distributor
FAQ's
How do I figure out the shelf life of a product?
The shelf life of a product can be found on either the technical data sheet (TDS), available on the product page, or by looking on the certificate on conformance (COC). The COC can be downloaded by going to https://www.chemtronics.com/coc. Once you have the shelf life, you will need to add it to the manufacture date for a use-by date. The manufacture date can be identified by the batch number. The batch code used on most of our products are manufacture dates in the Julian Date format. The format is YYDDD, where YY = year, DDD = day. For example, 19200 translates to the 200th day of 2019, or July 19, 2019. This webpage explains and provides charts to help interpret our batch numbers: https://www.chemtronics.com/batch-codes.
Articles
Essential Guide to Medical Electronic Device Design
One of the most common mistakes is not considering the relevant regulations early in the medical electronic device design process, leading to expensive modifications or even the complete redesign of the device. Therefore, it is important to know the regulations and best practices before starting a n...
Read This Post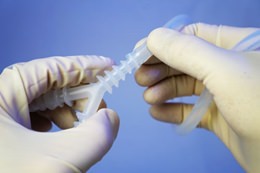 Video Demo: Coventry Medical Flexible Tubing Swelling Agents
Coventry is known globally for solving the most critical application challenges. Our high purity swelling solvents offer medical equipment manufacturers an innovative way to efficiently secure tubing onto connectors. Coventry swelling agents provide a cleaner, faster and easier bonding method tha...
Read This Post