8
Flux-Off Complete
Powerful, economical flux remover spray for cleaning no-clean flux
Flux-Off Complete Flux Remover is an extra strength solvent that removes heavy and encrusted flux residue. This unique solvent based formulation penetrates quickly to remove all types of flux, oxide particles, dust, grease and oil, then evaporates quickly leaving no residues.
Features & Benefits
Powerful cleaner removes R, RA, RMA, and No Clean fluxes
Extra cleaning strength
Non-corrosive, safe for metals
Dries fast
Leaves no residue
Flammable
Applications
Removes all types of rosin-based and synthetic no-clean fluxes
Minimizes white residue formation
Can replace MEK in cleaning applications
| | |
| --- | --- |
| Shelf Life | 5 yrs. |
| Shipping Name | Consumer Commodity ORM-D |
Order from an authorized distributor
FAQ's
Articles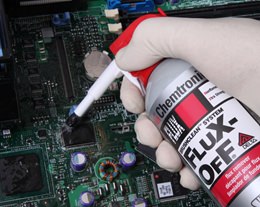 Flux Remover Video User's Guide
Today, I'm going to take you through the best practices for cleaning printed circuit boards with a flux remover. A flux remover cleans off flux left behind after the soldering process. That's important because flux residue can cause corrosion or create what's called "dendrites", which are ionic par...
Read This Post
Ultimate Guide to Cleaning Electronics
In the process of assembling, reworking or repairing printed circuit boards (PCB) for electronic devices, the discussion inevitably turns to whether or not to clean the PCB. Cleaning adds time and expense to the process, and doing it wrong can cause more harm than good. This guide will walk you thro...
Read This Post