Choosing the Best Swab for Aggressive Solvents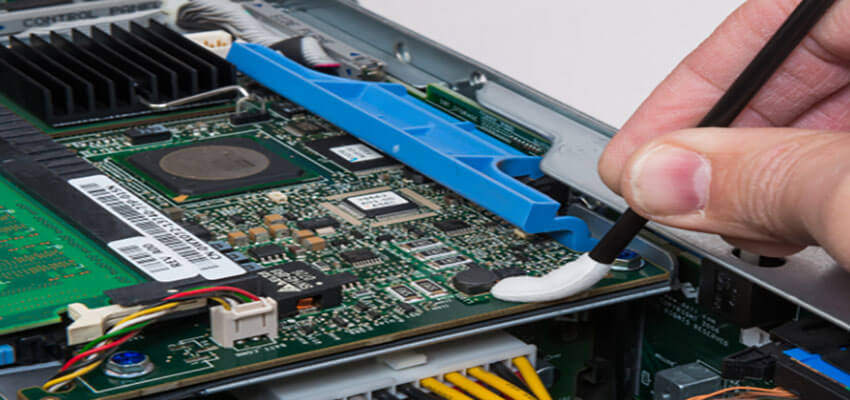 In precision cleaning applications, swabs can be used on their own to remove contamination. However, more often swabs are used together with a solvent to remove contamination. The success of the cleaning effort depends in part on the compatibility between the swab and the cleaning solvent. Using the wrong solvent can break down the swab head material and lead to more contamination instead of less.
Swab Head Material Compatibility
Most of the time solvent/swab compatibility is not a problem. The most common solvent for all types of cleaning is isopropyl alcohol (IPA), which is generally compatible with all types of swab materials. Sometimes a stronger, less common, or even exotic solvent is required to remove stubborn contaminant like excess adhesive, stains, coatings, baked-on fluxes, and some biological materials.
When a solvent starts to attach the swab head material, most commonly an issue with foam, the material will initially start to swell. If the head is simply heat-staked to the handle, melted to a single point on the front and back, it will tend to come loose quickly. With extended exposure to the harsh solvent, the foam with then starts to break down and fall apart, creating a mess of particulates.
Keep in mind that standard cotton bud swabs are compatible across the board. Synthetic materials have solvent compatibility concern.
If you are in the process of selecting a swab, the following chart is a quick reference guide to what swab materials are compatible with the various solvents:
Key:
OK = no change with exposure
S = swelling/softening might be ok if exposure is limited
X = incompatible, not recommended
Solvent / Chemical

Head Material

Foam

Polyester

Acetic Acid

OK

OK

Acetone

S

OK

Acetonitrile

OK

OK

Ammonia, Anhydrous

S

OK

Aniline

S

OK

Benzene

S

OK

Carbon Tetrachloride

S

OK

Chloroform

S

OK

Chlorophenol

X

X

Chromic Acid

X

X

Cyclohexane

S

OK

Cyclohexanone

S

OK

Dimethylformamide

X

S

Dimethylsulfoxide (DMSO)

X

OK

Ethyl Acetate

S

OK

Ethyl Alcohol

OK

OK

Ethyl Chloride

S

OK

Formic Acid

X

OK

HFC (hydroflurocarbons)

OK

OK

HFE (hydrofluoroethers)

OK

OK

Heptane (all isomers)

OK

OK

Hexane (all isomers)

OK

OK

Hydrochloric Acid 48%

X

X

Hydrogen Peroxide

X

OK

Isopropyl Alcohol

OK

OK

Methanol

S

OK

Methyl Ethyl Ketone (MEK)

S

OK

Methylene Chloride

S

OK

Nitric Acid 100%

X

X

Nitrobenzene

S

OK

Perchloroethylene (PERC)

OK

OK

Phosphoric Acid 85%

X

OK

Sodium Hydroxide 36%

S

OK

Sulfuric Acid 98%

X

X

Tetrahydrofuran (THF)

X

OK

Toluene

S

OK

Trichloroethylene (TCE)

S

OK

Vinyl Acetate

S

OK

Water

OK

OK

Xylene

S

OK
Swab & Solvent Contact Time
Contact time between swab and solvent is a critical factor too. Some swabs are tolerant of aggressive solvents for a short period but breakdown over time. This is especially true when the swabs are used to apply adhesive, bonding solvent, or lubricants. Technicians often use a swab to make multiple applications, so the contact time is longer. The consequences are also higher because they are intentionally transferring fluid from the swab to the part.
Specific Example:
-Aggressive solvents like acetone can destroy a polyurethane foam swab head. The acetone penetrates, swells and softens the foam making it very susceptible to any abrasion, tearing, shredding and shedding lots of particles and NVR (non-volatile residue). Over time the acetone will start separating the individual polymer molecules and the foam could even start to feel sticky and leave behind residue.
-However, acetone will have little or no effect on most polyester swabs. Acetone is aggressive and low in surface tension, so it can penetrate between weakly bound fibers. The seams on some of the more delicate cleanroom polyester swabs may be more prone to weakening by acetone. With extended use, the swab seam may split. Coventry™ branded swabs from Chemtronics, are much stronger in both material and construction and, by design, will not be affected by acetone.
What About Swab Handles?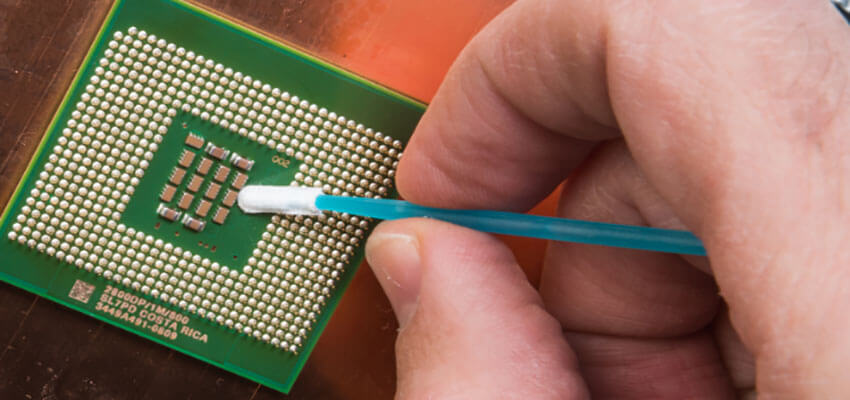 The swab handle material can also be susceptible to solvent attack but that is usually less critical and easily addressed by selecting swabs with polypropylene, nylon and polyethylene handles.
If ESD swab handles are required, aggressive solvents may have more of a tendency to soften the material or affect the dissipative properties. The blue material used for the Coventry ESD Swabs is highly resistant to even aggressive solvents.
If you have any questions, please contact us.
Associated links: