Cleanroom Swabs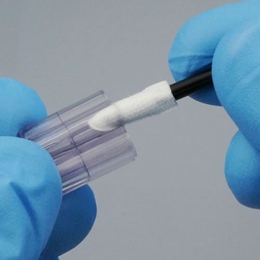 Coventry™ cleanroom swabs and applicators keep contamination out of your process, improve yield, and perform consistently, shipment to shipment. To manufacture a Coventry swab, we start with engineered clean materials. Polyester swab and wipe components are laundered first in our Class 10 (ISO Class 4) cleanroom.

Coventry's Aqua-Prime™ process reduces particles, ionic contamination, and non-volatile residue. The Aqua-Prime™ process cleans with a purified proprietary solvent blend. Widest Selection of Critical Application Swabs.

Coventry has a wide variety of choices to meet your most demanding applications. The wrapped swab, uniquely designed with no seams or edges, prevents scratching of delicate surfaces. Also included in the product line are sealed fabric, sealed foam, and static control.
No Products Available for this category.
---
Articles
---
ESD Safe Swabs Prevent Shocking PCB Failures
Swabs are useful precision tools for technicians and operators to perform delicate and meticulous tasks like precision cleaning, repair, and assembly. The types of swabs can range from low-cost cotton buds on a wooden stick to highly engineered cleanroom woven materials with a specialized head shape...
Read This Post